Saturday 4th April 2020
Good afternoon everybody,
Here are the Rainbow winners:
| | |
| --- | --- |
| Nursery | Raef Nursery Green |
| Reception | Aesha Reception, Miss Ward |
| Year 1 | Shahzaib 1ES |
| Year 2 | Samarah 2CS |
| Year 3 | Inaaya 3DH |
| Year 4 | Alesia 4EC |
| Year 5 | Milad (5JL) |
| Year 6 | Shahbaz (6ML) |
Well done to you guys, Amazon vouchers are on the way. A big thank you to every child who entered, you definitely brightened up our days! Now get busy everyone with the Easter Egg competition! and sent your entries to your teachers (or me) and tweet them using @BirchfieldsPS and using hashtag BPSegghunt
Lots of love for now,
Mrs Campbell x
Friday 3rd April 2020
Happy Friday everyone.
Did you see my Tunnel of Love video that I put on Twitter? Here it is again underneath. I've also been watching Mr Pickering's very comical Toilet Roll video and Miss Coleman's really enchanting animation. It has made me miss all the people from Birchfields so much - its such a long time since we all were together. But every day is one step nearer being back to normal and being surrounded by the people we love.
Have a think about your most favourite memory of the people at Birchfields and be grateful for the school family that we have got. Hang on to your memories in the holidays and we are here on email if you need us.
Take care, be safe and kind, stay at home.
Lots of love for now,
Mrs Campbell
Thursday 2nd April 2020
Morning everyone
So my first name is Greek and means 'Defender of Mankind' - I quite like that! Can you guess whose names are connected to these meanings?
Meaning is industrious, hardworking, busy. A

clue: she is in year 4 and in year 6 but not at the same time!

Meaning is noble and kind. A clue: she is in year 1 and loves growing and making things.

Meaning is beautiful and can refer to a lake in Scotland. A clue: she works in years 5 and 6 and has her own reading and spelling group.

Meaning is coming from a bold family and wanting to be perfect. A clue: she loves her Sunshine Room.

Meaning is God is my Judge. A clue: he is in year 3.

Meaning is distinct and special. A clue: she is in reception and has a little boy called Sami.

Meaning is a flower. A clue: she is in nursery and loves to ride her bike to school.

Meaning is the follower. A clue: he is in year 5 and likes music.

Meaning is a gift grom God. A clue: he plays a mean guitar in his lovely room.

Meaning is a warrior. A clue: we have two of them, one in EYFS and the other in years 1/2. They love to help us.

Meaning is listener. A clue: she loves rabbits (that's very easy isn't it!)
Find the meaning of your own name and those of your family. Type in 'meaning of name ......' into your search bar and lots of answers will come up.
Email me what you find out!
Lots of love,
Mrs Campbell x
Wednesday 1st April 2020
Good morning - I thought I would carry on with some art appreciation today. Look at this piece of art - year 1 might recognise the style of it and guess who the artist is (think about your self portraits you did for the Tunnel of Love in the corridor at school).
So the artist is Andy Warhol. He created it in 1962. There were 32 little pictures all next to each other as if they were on a supermarket shelf! In those days there were 32 different flavours of soup and each little tin has a different flavour on it. Each small canvas was hand-painted Warhol loved Campbell's soup and used to have it for his lunch every day for 20 years!
I love finding out information about famous artists and artwork. Today I discovered that Andy Warhol was not allowed to go the Art Club at school because he was too good! That wasn't very kind was it? In fact we would call that exclusion (being left out) wouldn't we at school? Where's the equality in that!
Have a look at this famous painting - it's called 'The Starry Night' - what can you find out about it and who painted it.
Tuesday 31st March 2020
Good morning everybody
I was looking through this book this morning - it's very old but there is a lot of famous artwork that I would like to see one day. There are 960 pages so I find something I have not seen before every time I pick it up.
I love this picture by Henri Matisse - the colours are so vibrant!
When Henri Mattisse became sick he changed the way he did art and did collages using paper cut-outs. Watch this video about his art. I don't know about you, but I like it when I am shown what to do step-by-step when it comes to artwork because I'm not very confident. Have a go at creating something in the style of Henri Matisse and send me your photos at:
mrscampbell@birchfields.manchester.sch.uk
Have a busy day. Stay safe. Be kind.
Lots of love,
Mrs Campbell x
Monday 30th March 2020
Good morning everybody
The sky is very grey today isn't it? So we have decided to keep our Rainbow competition going until Friday. Come on guys, we need some rainbows to brighten up our streets! Remember, there are Amazon vouchers to win so get creating!
I was looking at Twitter at the weekend and saw some lovely diary entries from Birchfields children. Made me think about history - we are in the middle of a major historic event aren't we? Children in many years time will learn about Covid 19 in their schools and they will read diary entries to help them understand what it was like for us.Diaries are so important for history! So why not have a go at writing down what your days are like at the moment - or you could draw a picture of the things you are doing at home and the things you are missing.
I would draw my mum and son Joe who I can't see and Birchfields' children and staff because I miss them all so much. On the other hand I would draw Lucy, my daughter, my drums, jigsaws and my laptop which I am using a lot at the moment. Oh, I would also include the neighbours' cats because many of them seem to visit me quite often!
Watch the video about the Great Fire of London (a very big historic event) and you will see that we know lots about it because of some diaries that were written hundreds of years ago. Get recording your thoughts and feelings -you never know, you may become an important diarist one day!
Lots of love from Mrs Campbell
x
Friday 27th March 2020
Good morning guys,
Inspired by the artwork from my nephews (thanks, Josh and Isaac), this weekend I thought we would run a competition called:
Birchfields Rainbows
Send your brightest, most colourful and cheerful rainbows to me by email mrscampbell@birchfields.manchester.sch.uk
or to your teacher.
Alternatively you could tweet them and tag
@BirchfieldsPS
and use the #BirchfieldsRainbow hashtag.
We will announce the winner on Monday and they will receive Amazon vouchers to spend on anything they like!
Have a busy day guys, brightening up our world with rainbows!
Love from,
Mrs Campbell x
Thursday 26th March 2020
Good morning everybody
Whist watching the cherry blossom tree in my garden I was inspired to do a little bit of meditation. I imagined being in a meadow surrounded by trees and flowers and just being able to hear birds sing. It helped me feel calm and peaceful.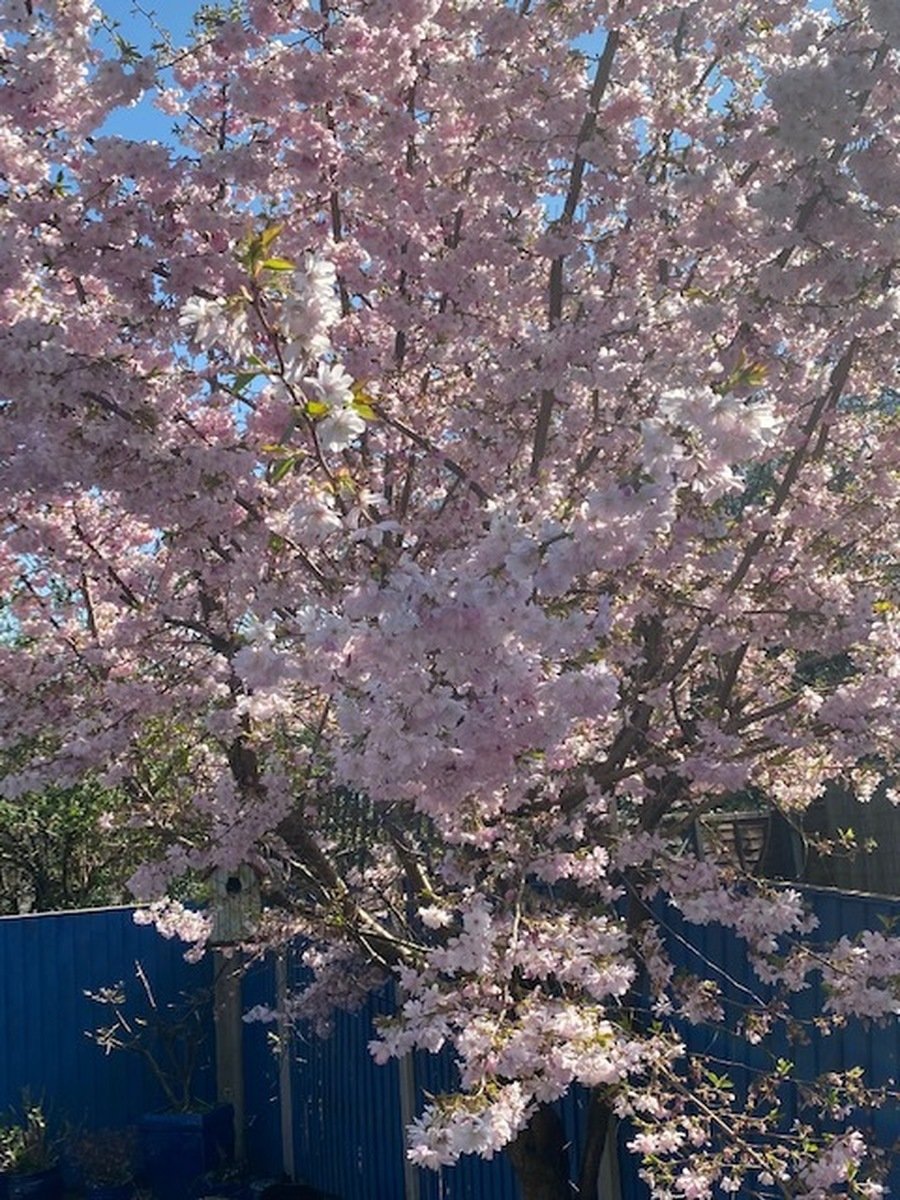 Have a look at this YouTube video that will help you do a similar thing and do some meditation at home. You could do it at bedtime - it may help you sleep.
Wednesday 25th March 2020
Good morning, everyone
My sankalpa today is to be grateful for things around me - and I am very thankful for the sunshine on this very beautiful and bright afternoon.
I've not had a great deal of energy today so I was looking for something more gentle to do. Check out YouTube video below of children doing Tai Chi - it's a great way to stretch and be active! In Chinese it means 'Supreme Ultimate Boxing' but is is very slow and controlled movements, it doesn't look like boxing to me!
Email me if you have a go and with any other news. I miss school and all the amazing children and staff.
Keep safe everyone.
xx
Good morning, Birchfielders!
Another lovely sunshiney day! Hope you have all checked the work set for you today and are getting stuck in.
I was doing some emails in my house with the door open and Charlie, my neighbour's cat, came to say hello. How gorgeous is he? He is sunbathing next to my drum kit!
Keep safe, work hard and be kind to your families.
Lots of love,
Mrs Campbell
Saturday 21st March 2020
Good morning, everybody!
Good news - I finished my jigsaw and named all the birds in it! Well, Miss Rees did. Here is a photo.
My challenge today is to remember all the names and try to recognise them from pictures. How many can you remember in 30 seconds? Look out of your window now - can you see any birds? I can still see bees!
mrscampbell@birchfields.manchester.sch.uk
Don't forget to email - send me facts about birds if you have any. I've just found out that ostriches have the largest eyes of any land animals and they are bigger than their brains!
Keep safe and busy and be kind to your families.
Lots of love,
Mrs Campbell x
Hey everyone!
I will update my Room later (my laptop has just died!!) but I have a new email address which is just for children if you want to get in touch with me. Just say hi, start a chat, ask for help, tell me your news, or whatever you want!
Don't forget to tell me whose class you are in.
The address is:
mrscampbell@birchfields.manchester.sch.uk
Send me emails, children!
Bye for now
x
Friday 20th March 2020
Good afternoon, everybody (I imagined you all saying that to me in assembly!).
Today I have been talking to some of the teachers who are still in school and watching the bees in my garden. Unfortunately, some of them have been trapped inside, so I have been giving them sugar water to give them energy.
I have ordered a butterfly net so I can help them escape less dramatically next time and make sure I don't hurt their wings... Mr Bradley would be(e) proud of my bee mission!
I've not managed to finish my jigsaw yet, as my little helper, Lucy, is concentrating on her college work.
However, with the help of Ms Rees and one of my friends, I have nearly identified all of the birds.
I'm going to go for a walk today in the sunshine, and try to get some exercise.
Send me some emails to tell me what you're up to. Keep safe.
Lots of love,
Mrs Campbell
Thursday 19th March 2020
Hi guys!
I am missing my room so much that I thought I would have a virtual room so I can stay in touch with you all. This is my fourth day away from school and I am keeping busy with lots of things. Your learning pages look fantastic so I hope you are all getting stuck into some work and using your work books.
This is a jigsaw that me and Lucy have started. There are 1000 pieces so its really difficult, but its been fun doing it together. Have you got any jigsaws to do? I am going to try to learn the names of all these birds today when its finished.
My sankalpa for the day is to keep going (with the jigsaw) even when things are tricky and not give up. I am going to be Percy and have some perseverance!
I will be here tomorrow and tell you all about my bee mission. Keep safe everyone and keep showing kindness.
Love from
Mrs Campbell x